FINNISH NATURAL STONE ASSOCIATION LEADS AN INTERNATIONAL PROJECT FOR THE PROMOTION OF SAFETY IN NATURAL STONE QUARRIES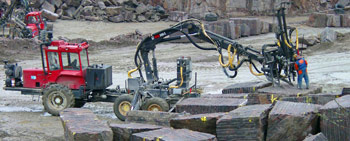 Download this photo for printing.
The project, co-funded by European Commission through Lifelong Learning Program Leonardo Da Vinci counts on the involvement of Finland, Spain, Germany and Croatia.
"SAFEQU-3D Animations for Promoting safety and health in Natural Stone Quarries" is the name of the project which aim is to boost healthy and safe workplaces in natural stone quarries by means of good practices. The revolution and results of the Project can be consulted at http://www.safequ.eu/
The necessity of the Project lays on the high accident rate that natural stone industry´s has traditionally suffered, as well as derived professional illness such as silicosis. Nowadays, the control of occupational hazards is a major challenge for stone industry. SAFEQU Project arises from the need for new tools and didactical materials for the promotion of safety and the increase of awareness of employers and employees about this issue. To reach it, during the project 3D Animations are being developed. These animations show the main risky situations in the performance of tasks at natural stones quarries´ workplaces. The pedagogical approach is easy and clear to understand and funny to gain audience´s attention.
These animations are similar to the results of the previous project STONE SAFETY (2009-2012) that can be consulted at www.stonesafety.eu and are an application of the NAPO technic (www.napofilm.net/es). It consist on a movies where the action takes place without neither verbal nor written communication, being all the transmission of information in a visual way. This dynamic enhances the pedagogical advantages above mentioned, as well as the international dissemination of the animations regardless the mother tongue of the audience.
SAFEQU partners, besides Finnish Natural Stone Industry Association are: Marble and natural Stone Technology Center from Spain, Faculty of Applied Sciences of Saimaa University from Finland, Friedrich-Weinbrenner-Gewerbeschule Institut from Germany and Klesarska Skola, from Croatia.
The Project started in October 2012 and will have a duration of 2 years. Within this time a deep analysis of the safety and health issues in natural stone quarries will be carried out, as well as the 3D animations regarding the main needs arisen and the pedagogical methodology agreed by the consortium. Subsequently, a plan for the exploitation and dissemination of the project´s results will be developed and performed with the aim of benefiting the whole stone quarries industries in Europe with SAFEQU´s outcomes.
Download this file as .doc
Download this file as .pdf